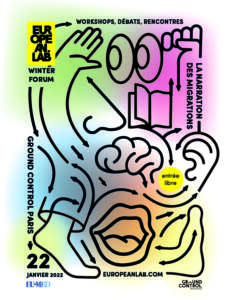 For its 6th edition in Paris, European Lab Winter forum returns to Ground Control and is part of the dynamics of a week of programming dedicated to "faces and journeys of migration"
c
ommitted to European cooperation on "the narration of migrations", European Lab strives to convey mobilizing, lucid and inspiring stories that counter security psychoses, identity withdrawals and declining statements: testimonies of migratory journeys, stories of hospitality, committed speeches, artistic performances.
European Lab Winter forum is mobilizing on two emergencies related to migration issues: hospitality and climate.
Migrations
et dérèglement climatique.
Artistes en exil et solidarité de la scène culturelle
See and review the 4 discussion panels of the Parisian forum.