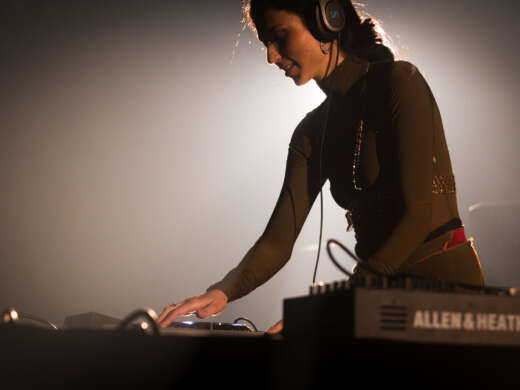 DJ, artist, FR
Paloma Colombe
Brief info
DJ, sound artist, music & film programmer and curator, director, columnist: Imagine a world where heavy and percussive beats mix with heady Kabyle songs. Where the testimonies of those who are never heard resonate with force. Where the trance of the music tells a story, an emotion. The DJ exalts her biculturality by combining sound archives, traditional rhythms and recent discoveries from the most exciting electronic music scenes of the moment.
From San Francisco, where she discovered a radical music scene during her studies in cinema, to her mother's Algeria, where she elaborated the contours of her artistic project, Paloma Colombe creates bridges between cultures and builds a powerful, committed and uncompromising musical narrative. She sets the stages of the biggest French festivals on fire (Eurockéennes, Transmusicales, Nouvelles Scènes, Rio Loco...) and does not intend to stop there.
Off stage, her universe is embodied in the form of documentary films (Planet Malek), programming and musical curations (Nova Club, Radio Nova), a feminist podcast of testimonies set to music (Écoute-La).
She is also a project manager for the Habibi Funk label, creator of soundtracks for the theater (Contre-Enquêtes de Nicolas Stemann) and has written numerous musical articles.
Through her different artistic practices, she tries to create spaces in which to live experiences of otherness, the conditions of fortuitous encounters between a priori heterogeneous elements, stubbornly seeking to go beyond cleavages.